The Artist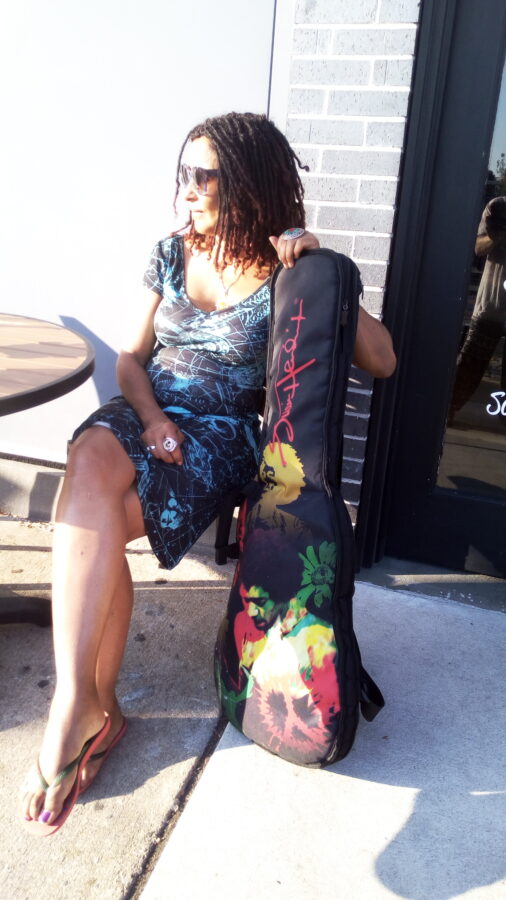 Coco Bastien, aka CocoSol, is a magnetic world fusion vocalist, songwriter, multi-instrumentalist and educator from Montreal, Canada. In the past 20 years in Philadelphia, CocoSol performed with the finest musicians in the community, including: Owen Brown, Marc Johnson, the Philadelphia symphony, the late Doug Grisby and Jeff Lee Johnson, and many more, She brings her multi-ethnic flavor and soulful presence to the mix. Since her arrival, CocoSol owned 3 bands; Do It Duo, Les Tourterelles and Chocolate Sun, which permeated the artistic stage life locally and internationally.
For the past 10 years until the covid-19 pandemic, CocoSol was touring monthly and nationally with Ustad Shafaat Khan, world renowned Indian Classical sitar and tabla player, accompanying him on vocals, guitar, keys and hand drums. Presently, she is recording her 2nd artistic project at BMR studio, Philadelphia PA with Franz Richards, co-producer and engineer. This project is a trilogy of chants honoring the Hindu mythology and the magic of CocoSol's transformation as a yoga teacher: Sol Kali Dance, Ganesha Sol Mission Possible and Ram Solove. The first chant, Sol Kali Dance is scheduled to be released soon on Bandcamp by Afronaut Media, Oakland, CA.
The Mentor

Her professional teaching experience extends to 17 years as the head music teacher for elementary and middle school students at Gladwyne Montessori, where she also conducted the 18 seats ensembles and the school touring rock band. In 2008, she founded Sowelu Music, a studio delivering excellencies in private training, artistic development and production in the greater Philadelphia area.
Coco's teaching is customized to the needs of each student. From theory, technique and execution, her innate intuitive gift is directed to unlock and unfold your potential. Sowelu Music offers virtual individual and group classes for students of all ages. Along her private roster, she also works with community centers and private schools music programs.
Education
Music & Fine Art BA. Concordia University. Montreal, Canada.
Music Education BA. University of Quebec. Montreal, Canada.
Orff Schulwerk Music Certification. Mills College, Oakland CA.
Special project, Sowelu music production, 2017
The death Of a Bachelor by Ellie O, 14 years old
Exclusive "Songwriting" Sowelu Summer camp, 2016
"Open Your Eyes" original music by Cocosol, lyrics by Indee Elona and Grace MH.
Exclusive "Funk It Up" Sowelu Summer Camp, 2013